About the MCC 5K Walk/Run for Scholarships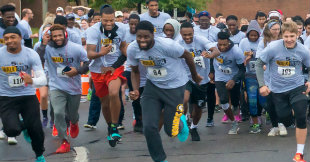 In-person Date and Location: Saturday, October 1, 2022, in-person at MCC's Brighton Campus, 1000 East Henrietta Road, Rochester, NY 14623. We will adhere to all current MCC guidelines and/or policies in regard to COVID-19.

Virtual: Virtual participants may walk, run, hike, bike or swim off campus on Saturday October 1. Virtual participants will not receive a bib and will not be timed. Virtual participants are not eligible to receive awards or medals. Current MCC students registered for the 5K by September 27 who participate virually will be entered into the scholarship drawing.
Purpose: MCC alumni, students, faculty/staff, friends and members of the Rochester-area community will connect to raise scholarship support for MCC students and celebrate Homecoming. The benefit of a combined in-person and virtual race means you can show your support in the way that is most comfortable for you. You can walk or run at your convenience and invite others to join you who typically do not participate in a 5K.
Support a Great Cause: This event, hosted by the MCC Foundation, continues to grow year after year. Since 2009 we have raised a total of $220,000 and welcomed 5,778 5K participants and donors!

Packet Pick Up: Thursday, September 29, from 12-2 pm, Room 3-121, MCC's Brighton Campus, 1000 East Henrietta Road. Virtual participants will receive a commemorative T-shirt only.

Walk/Run In-person Schedule:
9:00 am - check-in and registration opens in parking lot G
9:30 am - Zumba warm up with MCC alumna Maribel Torres '98
9:50 am - check-in closes
10:00 am - race start
Tailgate Party: Join us in the gym for refreshments, music and more.
Scholarship Drawing and Awards Ceremony: Awards will be announced and the scholarship drawing will follow the conclusion of the in-person race on Oct. 1 at 11:30 a.m. at the Tailgate Party and via Facebook live, find us at facebook.com/monroecc.

Event Includes: Commemorative T-shirt, photo area, prime scenic course on a flat surface, timing provided by Robin Hood Racing, free on-site parking, awards and medals. Our course is 3.1 miles and is certified to be accurate by USATF #NY14122KL.
Open House: Do you know someone interested in attending MCC? Our doors are open! Take a tour of the Brighton Campus during Fall Open House starting at 12 noon. For more information visit our open house webpage.
5K Registration Fees:
$10 - MCC students registered for the Fall 2022 semester
$20 - Early registration fee
$25 - Round Up!
$30 - Late registration fee on October 1
$ 1 - 5K Children ages 10 and under
$20 - Virtual

Event Co-Chairs: Join our event co-chairs in helping us reach our goal to raise $20,000. YOU can help us achieve this goal by registering today and starting to fundraise right away.
Alumni: Jodi M. Oriel '93, Director, Office of Student Life and Leadership Development, MCC
Retiree: Dr. Jeffrey P. Bartkovich, Vice President, Educational Technology Services (retired), MCC